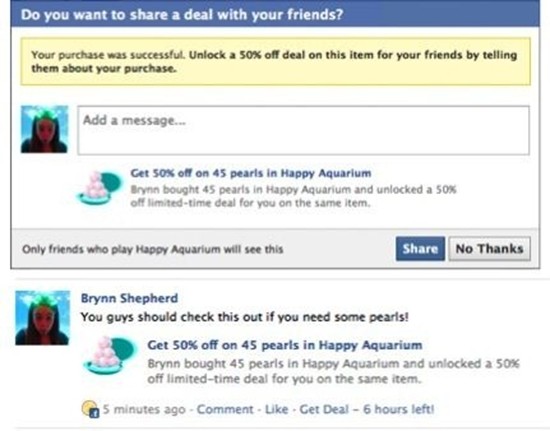 In January, Facebook Commerce Product Marketing announced the coming launch of "Buy with Friends".  A feature that allow users to share that they've made an in-app purchase to their stream, writes Inside Facebook.  Developers can use the "buy with friends" feature to make their promotions or deals more effective, says Facebook.
Not that Facebook needs the domain name buywithfriends.com, but it has expired.
According to GoDaddy, the domain name expired on 05/02/2011 and is pending renewal or deletion.
In 2008, Resort Owners Group abandoned its trademark on "buy with friends".  The company also looks to be abandoning its domain name: buywithfriends.com.  It's the current registrant, but maybe not for long.
Registrant:
   Resort Owners Group
   219 Dufferin Street
   Suite 100B
   Toronto, Ontario M6K 3J1
   Canada
   Domain Name: BUYWITHFRIENDS.COM
      Created on: 02-May-08
      Expires on: 02-May-11
Though Resort Owners Group might be giving up on "buy with friends", another company besides Facebook isn't.  Two days after Facebook announced its "buy with friends" feature, a company called Tazle applied for a trademark for buying clubs.
Facebook also recently launched Facebook Deals, and as Andrew Allemann of Domain Name Wire pointed out in a story about someone else owning the domain besides the company: "the domain name could be used in a way that damages Facebook's brand, such as an online sweepstakes that looks like it's part of Facebook. Or a phishing attempt."