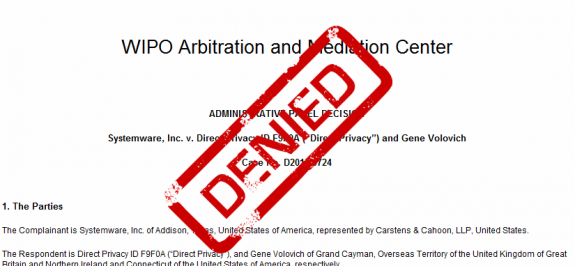 This result is not surprising.  Panelist Christopher J. Pibus has denied Systemware, Inc. of Addison, Texas, the domain name cite.com, in a dispute filed with the World Intellectual Property Organization (WIPO).
On April 26, 2011, a complaint was filed with the WIPO Arbitration and Mediation Center.  The complainant, Systemware, operates a business which provides database management software and filed filed a trademark application for the mark CITE on March 17, 2011.
According to WIPO, the Respondent Gene Volovich registered the domain name cite.com on March 26, 1997.  
That's right, Gene registered the domain name fourteen years earlier.
Systemware argued that it invested a significant amount of money to promote its business and trademark, despite only filing the application a month earlier.  Even before Systemware filed for a trademark application on CITE, other trademarks had already been registered with the United States Patent and Trademark Office by other companies, but never disputed.
Systemware also argued that Gene had no legitimate rights or interests to the disputed domain name because he is not commonly known by the name CITE, and was never authorized or licensed by Systemware to use the CITE trademark,which it filed for 14 years after the domain was first registered.
Panelist Christopher J. Pibus found that cite.com is identical to Systemware's trademark CITE, except for the addition of ".com", but since Gene registered the domain 14 years earlier, he had legitimate rights or interests to the name.
As a result of failing to satisfy the requirement for "Rights or Legitimate Interests", Systemware was denied the domain name and no finding was made on the "Bad Faith" claim, which can help in supporting claims of reverse domain name hijacking if there is no finding of "Bad Faith".
Although there wasn't any finding of reverse domain name hijacking against Systemware, Gene did contend that Systemware was attempting to hijack the name.
Now it looks like Systemware will have to shell out serious bucks to purchase the name if it really wants it.  The company filed another trademark application this past week on CITE, this time for cloud computing featuring software for use in database management.