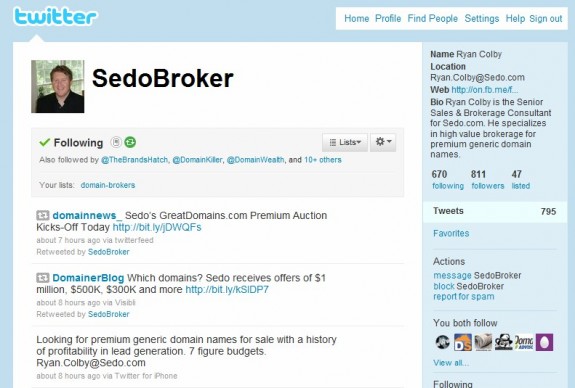 Sedo broker Ryan Colby (who goes by the Twitter handle @SedoBroker) is very active on the micro blogging website Twitter, making sure to keep his nearly 1,000 followers up to date on the goings on of a domain broker for the world's largest domain marketplace. 
Ryan, like many other brokers online who are non stop busy, regularly retweets messages posted by other domain investors, most of whom also happen to be bloggers.
His messages aren't limited to just retweets.  He posts advice on domain names.
"I am bombarded with emails each day about brokering .net, .in, and other secondary domain extensions. Stick to .com, it will remain on top," Ryan tweeted from his iPhone on June 16. 
Ryan also shares information about sales, both pending and closed sales.  Unfortunately sometimes, due to NDAs, Ryan is prevented from discussing the details of the transaction. 
Here are some of his latest tweets.
@SedoBroker: Looking for premium generic domain names for sale with a history of profitability in lead generation. 7 figure budgets.
@SedoBroker: Just sold MobileAds.com for $25,000.
@SedoBroker: 4 letter premium .com name sold today for $300,000. Sorry guys, can't publish!
The 4 letter .com sale, tweeted by Ryan yesterday, would have put the domain in this year's top 10 domain sales, so far reported to date.