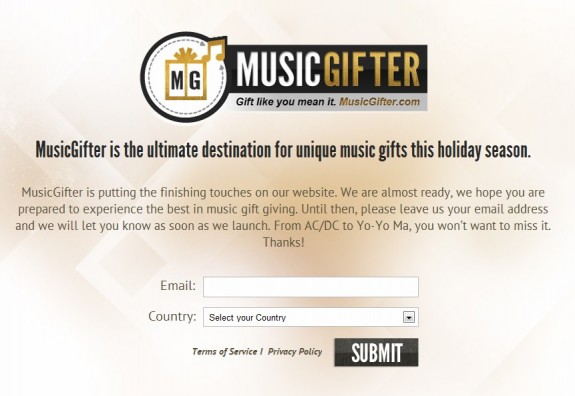 Sony Music Entertainment is getting ready to launch a music gift giving service called MusicGifter.
The company launched a teaser page late yesterday on the web address MusicGifter.com, which  I had written about in late September after Sony first registered the domain name. 
While details are still lacking and the company hasn't announced anything official, here's what Sony Music Entertainment has to say about the service on its teaser page:
"MusicGifter is the ultimate destination for unique music gifts this holiday season. MusicGifter is putting the finishing touches on our website. We are almost ready, we hope you are prepared to experience the best in music gift giving. Until then, please leave us your email address and we will let you know as soon as we launch. From AC/DC to Yo-Yo Ma, you won't want to miss it."
You can sign up on the home page to be notified when the service launches.