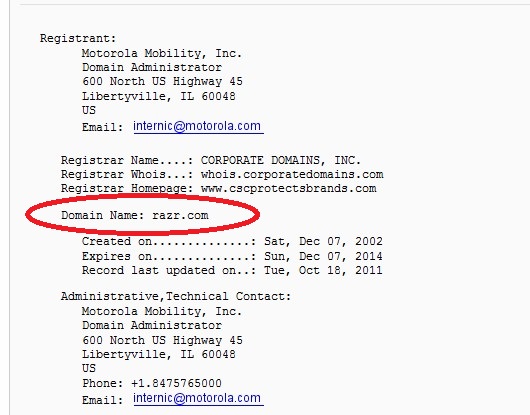 I recently wrote about Motorola buying up Motorola RAZR domains prior to its latest launch event, and also reported that Motorola had finally acquired the domain name MotorolaRAZR.com, seven years after the device's first release.
Now, according to WHOIS records, Motorola has acquired the domain RAZR.com from its previous owner, Michael Putzier, who had been running a magnetic sign business on the web address for years (screen shot of website).
The amount paid for the domain is currently unknown since the negotations went on behind closed doors, but given the timing and circumstances, one can only imagine it wasn't cheap.
I've reached out to the previous owner to learn more details about the transaction, and will update this post if I hear back.
Motorola has already begun re-directing RAZR.com to its Droid RAZR web page on Motorola.com.
[Updated, Oct. 24, 3:59 a.m.: Over the weekend, I received an e-mail from Mike Putzier, who wasn't able to share the purchase price but offered more background on the story. 
Mike writes:
I will not disclose the actual purchase price, but your readers might be interested to know razr.com was not as valuable as they might think.
I was fortunate enough to have owned Razr.com well before the Razr phone was created.  As such, even though Motorola Mobility now has the "razr" name locked down tight, they were very limited in what they could have done to get the domain name through litigation.  The same would not have been true for anyone else (other than Motorola Mobility) had they purchased the domain and tried to use it in any way related to the Razr line of phones.
We quietly co-existed and I always appreciated the fact that Motorola Mobility never tried to strong arm or drag me through litigation to force the issue.   Even with attorneys on both sides, we were able to reach an agreement within just a few short hours.  (As you might imagine, I have had a price in mind for a LONG time.) 
Razr.com is now "home", I was able to pay some bills, everyone is happy and no one had to ever type "WIPO". 
Our new domain is now RazrSigns.com.