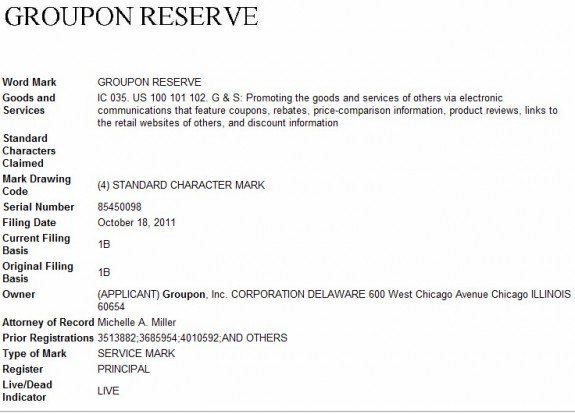 It appears Groupon is getting ready to launch a new service called 'Groupon Reserve' that will augment the group buying giant's portfolio of products.
On October 18, Groupon submitted the trademark application (Serial Number: 85450098) with the United States Patent and Trademark Office. 
The filing doesn't reveal any details about the new product, since the goods and services listed are identical to many of the company's previous filings.  "Promoting the goods and services of others via electronic communications that feature coupons, rebates, price-comparison information, product reviews, links to the retail websites of others, and discount information," reads the application.
According to WHOIS records, Groupon also recently acquired the domain name grouponreserve.com from its previous owner Benjamin McKean, who first registered the domain on August 4, 2011. 
The domain name switched hands this past week and is now registered to Groupon Inc.  I've reached out to Mr. McKean to learn more about the exchange and will update this post if I hear back.
Here's a look at the WHOIS record that was last updated October 17.
Registrant:
      Groupon, Inc.
      Systems Administrator
      600 W. Chicago Ave Suite 620
      Chicago, IL 60654
      US
      Email:
   Registrar Name….: CORPORATE DOMAINS, INC.
   Registrar Whois…: whois.corporatedomains.com
   Registrar Homepage: www. cscprotectsbrands.com
   Domain Name: grouponreserve.com
      Created on…………..: Thu, Aug 04, 2011
      Expires on…………..: Mon, Aug 04, 2014
      Record last updated on..: Mon, Oct 17, 2011
   Administrative,Technical Contact:
      Groupon, Inc.
      Systems Administrator
      600 W. Chicago Ave Suite 620
      Chicago, IL 60654
      US