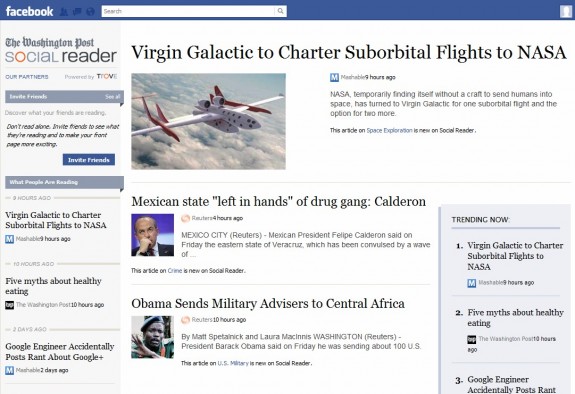 Nearly a month after The Washington Post launched its Social Reader newspaper application on Facebook, it has acquired the domain name socialreader.com for an undisclosed amount of money.
According to WHOIS records, the domain name transferred to The Washington Post Company on October 14, 2011.
One can only guess what the dollar amount was, and considering The Washington Post decided to buy the domain after it launched the application, the price likely shot up even higher by late September. 
I've reached out to the previous owner of the domain to learn more details about the transaction, and will update this post if I hear back.
At the time of this story, socialreader.com does not resolve to The Washington Post or Facebook and joins other domains owned by the newspaper company that it registered in early September like wpsocialreader.com and washingtonpostsocialreader.com.
Here's a look at the current WHOIS record for socialreader.com.
Registrant:
      Washingtonpost.Newsweek Interactive Company
      Domain Administrator
      1150 15th St NW
      Washington, DC 20071
      US
      Email:
   Registrar Name….: CORPORATE DOMAINS, INC.
   Registrar Whois…: whois.corporatedomains.com
   Registrar Homepage: www. cscprotectsbrands.com
   Domain Name: socialreader.com
      Created on…………..: Tue, Sep 20, 2005
      Expires on…………..: Thu, Sep 20, 2012
      Record last updated on..: Fri, Oct 14, 2011
   Administrative Contact:
      Washingtonpost.Newsweek Interactive Company
      Domain Administrator
      1150 15th St NW
      Washington, DC 20071
      US
   DNS Servers:
   wd1.ash.wpni.net
   wd3.arl.wpni.net
   wd2.ash.wpni.net