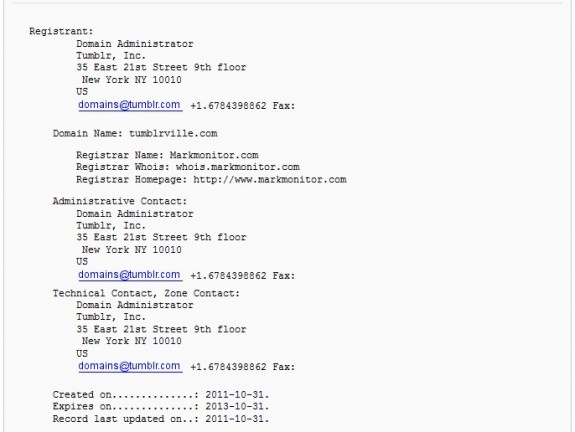 Tumblr has been doing something unusual this past week – registering new domain names.
The social networking company which has been on the rise, only owned a handful of names according to WHOIS records prior to this past week, but now has added almost two dozen domains ranging from TumblrAds.com to TumblrVille.com.
Here's the full list of .com domains that Tumblr registered through the brand protection company MarkMonitor on October 31, 2011.
tumblraccelerator.com
tumblracceleratr.com
tumblrad.com
tumblrads.com
tumblrbazaar.com
tumblrbodega.com
tumblrcollider.com
tumblrcollidr.com
tumblrdeli.com
tumblrdynamics.com
tumblrflea.com
tumblrgardn.com
tumblrkeeper.com
tumblroutfitters.com
tumblrproductions.com
tumblrprojects.com
tumblrreach.com
tumblrreads.com
tumblrskunkworks.com
tumblrstudios.com
tumblrville.com
Last week, Tumblr made several private domain name registrations also through MarkMonitor, that hint at a new product or service called 'Tumblr Seltzer'.  The domain registrations included seltzertumblr.com, tumblrseltzer.com, and getseltzer.com.