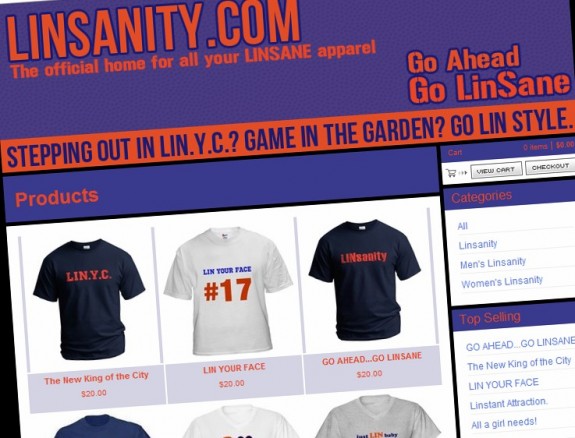 It looks like Andrew Slayton who coached Jeremy Lin at Palo Alto High School in California and who registered the domain Linsanity.com in 2010, has opted to stop selling Lin-related apparel on the Linsanity.com website.
As of today, instead of seeing t-shirts for sale with sayings like "Lin Your Face #17" like seen in the Google cache snapshot above, people going to Linsanity.com will be greeted by nothing more than a "Coming Soon" page.
What appears to have prompted Andrew Slayton to take down the site is the potential for legal problems.
As a number of sites reported earlier this month, Andrew Slayton also filed to trademark (Serial Number: 85537764) the word "Linsanity" for athletic apparel — namely, shirts, pants, jackets, footwear, hats and caps, and athletic uniforms.
But this week, Jeremy Lin filed to trademark both "Linsanity" (Serial Number: 85541426) and his own name "Jeremy Lin" (Serial Number: 85541428). 
Jeremy's own filings cover a much wider range of goods and services.
According to Whois records, Andrew Slayton is still the owner of Linsanity.com.
I've reached out to Andrew via e-mail to find out more information and will update this post if I hear back.
[Update 1 on February 20, 2012:   Andrew Slayton has unveiled a new look on Linsanity.com that no longer sells Lin-related merchandise.]