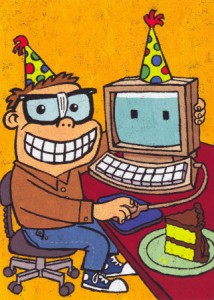 It's not just people on the street who get it wrong, but often Media reporters who cover Domainers love to lump them in with Cybersquatters.  Just check out the opening to this recent story by Business in Vancouver which calls Kevin Ham "one of Vancouver's Most Famous Cybersquatters".
Whether people want to think of Kevin Ham as a Cybersquatter or not in Vancouver, the reporter does offer up interesting tidbits you might not know about Kevin Ham and his Company – and also provides insights into his plans for Vancouver.com.
How much is true and how much the reporter made up, we don't know, but here's a look.
A Few Interesting Tidbits From The Story
The price paid by Kevin Ham for the domain Vancouver.com was undisclosed but rumoured to be more than $5 million.
At one time, he owned 300,000 addresses worth an estimated $300 million.
Reinvent's websites attract 30 million visitors every month.
He has made only a single domain acquisition since December 2007.
He said Reinvent, which has less than two-dozen employees, is cutting back on spending.
The Point of the Story
The reporter attended a rare presentation given by Kevin Ham in September in which he shared plans to develop Vancouver.com by partnering with other businesses.
Ham told the audience during a rare public presentation at the Vancouver Enterprise Forum (VEF) on September 15 that his company, Vancouver's Reinvent Inc., is looking for partnerships to develop Vancouver's brand globally through Vancouver.com.

To showcase it to the world, we want to showcase it to everybody in Vancouver," said Ham near the end of an hour-long speech that included such topics as Walt Disney and how Ham built his domain empire.