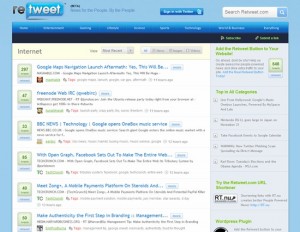 Retweet.com which launched their website and Retweet button in August is on it's way to becoming a Killer site.  In it's first two months of being online with a new site, visits have climbed to well over 100,000 visitors a month according to Compete.com.  Owning a great name and launching a service that's IN DEMAND has allowed Retweet.com to go on a tear.
Will Retweet.com STEAL Tweetmeme's Thunder? 
Retweet.com created a flurry of news after it's website and Retweet button launched.  But a lot of the news centered around Retweet's apparent rip-off of Tweetmeme's (http://www.tweetmeme.com/) design and code.  Though it's a sure way to create some buzz (and maybe some legal troubles), Tweetmeme doesn't have much to worry about, at this time with over 14 million visitors a month. 
Retweet.com still has a way to go, but they're taking a chunk out of the Retweet market share and they're growing visitors to their site very fast.
The number of third-party Twitter sites on the internet is too many to count, but what separates Retweet.com from it's competitors, has less to do with features and offerings – and more to do with it's CATEGORY-KILLER NAME – which gives it's instant street cred with many Twitter users.  
Twitter Related Domains (AND Why We Love Them)
We love Twitter-related domain names.  That doesn't mean they'll make us a milllion bucks, but with Twitter making headlines everyday, and growing by the millions, it's a sign that Twitter-related names could attract buyers looking to build third-party twitter sites.
We own several Tweetup niche domains, including Tweetups.com (http://www.tweetups.com/) but we just haven't found the time to develop the site.  But it's on our radar and it's something we're planning to do bigger and better in the next six months.  In addition to Tweetup names, we hand-registered dozens more like StrangeActivity.com and others related to Twitter for fun.  You just never know, stranger things have happened.