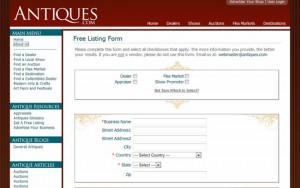 With many of the Big Time domain portfolio owners slow to develop many of their category-killers, National A-1 is expected to be launching several.  The launch of their category-killer domain Antiques.com, is expected this month. 
According to the page that's online right now, it looks like Antiques.com will be a fully developed, Antique MEGASITE. 
The megasite will help you find dealers, local shows, auctions, flea markets and more.   It will offer resources such as Appraisals, a glossary, free listings and who knows what else. 
You can get a sneak peek of the website by going to Antiques.com to learn more. 
99 percent of the links don't work, but if you're an Antiques vendor the Free List Form does work, while National A-1 builds up their online Directory so they  have resources available for visitors at Launch. 
Writers of High Quality Antique Content Wanted
Are you an author with expertise in the field of antiques? We require unique, original content from authors/columnists/dealers/appraisers/etc. such as articles, how-to's, FAQ's and book chapters from published authors.
Antiques.com has Two Goals
Antiques.com is brought to you by National A-1 Internet, a leading provider of Internet content since 1995. Antiques.com will be launching in November 2009 with two goals; to be the premiere resource for shoppers in search of antiques and various antique resources and to be a marquee venue for antique dealers, shows, auctions, flea markets and appraisers.
List Your Antique Business for Free!
We invite all antique dealers, shows, auctions, flea markets and appraisers – whether you have a showroom or work out of your home – to take advantage of the Antiques.com free directory.