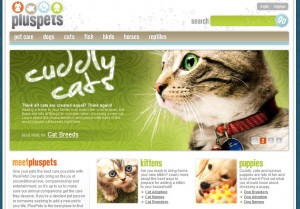 TechCrunch and others have asked the same question over the years – is Tsavo Media the next Demand Media? 
Tsavo media who own and operate a wide variety of domain names and web sites from Manolith.com to WealthyGeek.com and PlusPets.com to RealTVAddict.com.  While literally none of their web sites run on category-killer domain names, that certainly hasn't stopped Tsavo media from month in and month out, getting over 30 million users to visit the company's network of sites. 
You might argue that Tsavo Media is nothing like Demand Media, but their model of building up sites with content and monetizing them through traffic and advertising is much the same.  And they're doing it with less than killer names.
Sites like ThinkFashion.com have as many as 226,000 visitors per month.  Guide2CreditCards.com might only get about 3,000 visitors per month, but imagine the payouts.
You've probably noticed that Tsavo Media looks a lot like MoxyMedia, who we've written about in the past. And there's a reason – Tsavo Media acquired select assets from MoxyMedia back in 2008. Both companies are backed by American Capital and as you navigate both company's sites and domains you'll see a lot of overlap.
Whether Tsavo becomes the next Demand Media, you have to be impressed at what they've achieved and it's inspiring to any Domain Name fan given the names they're using to run some of their most popular sites.
Sure, they have capital backing them up, but instead of using all their cash to buy a few good names, they've built something much bigger.
A Sample of Tsavo Media's 300+ Websites and Blogs
Lumagardening.com
PlusPets.com
Twithority.com
Occassions365.com
theFlowersCatalog.com
thebeBddingcatalog.com
theGlasswareCatalog.com
DpDigest.com
DiscoverFame.com
HomescapeKitchens.com
Kidglue.com
StatusClean.com
Manolith.com
ThinkFashion.com
TechSerious.com
WealthyGeek.com
BirdfeedersDirect.com
BarbecuesandGrills.com
Daymix.com
theProductDepot.net
OneHealthyLifestyle.com
RealTVAddict.com
Texty.com
Guide2Creditcards.com
LumaPoolsandHottubs.com
Triolix.com
Travel-wise.com
MoneyPowercenter.com
Infodingo.com
About Tsavo Media
The consumer sites, informational properties and social media blogs in the Tsavo portfolio focus on highly searched categories including technology, finance, education, home & garden and lifestyles. Our websites offer helpful facts and guidance, news, commentary and professional services to the millions of people who visit our network. We deliver highly rewarding experiences to today's digital consumers through innovative relevancy initiatives and quality content.

Through careful planning and aggressive talent acquisition, we've assembled one of the top teams of Web professionals in the world. By prioritizing creativity and a strong sense of community, we've created a dynamic atmosphere and a thriving company culture that facilitates the success of our cutting-edge projects.