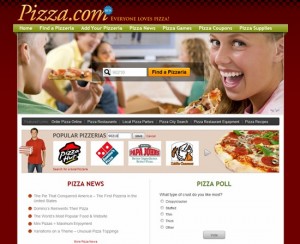 National A-1, owners of some of the best domain names in the world, have given Pizza.com a fresh new look. 
The site now offers pizza news, pizza games, pizza coupons, supplies, and listings.  There are even pizza fun facts like, "Domino's Pizza is the world leader in delivery." If you remember the old site, the new look and feel is more vibrant and inviting to visitors.
What's the History of the Pizza.com Domain Name?
 
It all started with a hand registered domain name in 1994 by Chris Clark who paid a small registration fee to continually renew the domain name.  That name paid off in the tune of million+ dollars in 2008.  The original Sedo deal of $2.6 million fell through, so the final sales price is unknown.
NJ.com even ran a story just over a week ago about Pizza, which opened with Pizza.com and DDC.com.  In the story Sean Moriarty is even quoted as saying, "It's probably the best generic domain name in existence.."
Devan Moriarty, along with rest of the world, is crazy about pizza.

The two-year-old insists that her dad, Sean, play Charlotte Diamond's "I am A Pizza'' whenever they get into the car. It may be two-plus minutes of silliness ("I am a pizza/with extra cheese/plum tomatoes/onions and mushrooms'') but little Devan can't get enough of it.

Her dad loves pizza, too. Moriarty, a former Morristown resident, is CEO of pizza.com. DDC, a domain development firm where Moriarty is an executive, bought the pizza,com name…