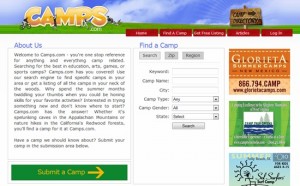 With spring right around the corner, big gun National A-1 Advertising has launched their category-killer domain name Camps.com into a full fledged website. 
National A-1 has been making headlines lately in quick succession, most notably after relaunching Pizza.com, then with the sale of Poker.org for $1 million. 
While we haven't seen any press releases on the launch of Camps.com, its one of many great names listed on National A-1's Catnip.com landing page.  National A-1 has also launched other resource/directory sites this year including Antiques.com. 
Camps.com allows you to find camps, add your own camp for free, read camp-related articles, and even submit your own stories.  Simply parking domains isn't cutting it for some of the largest domain companies, and National A-1 has long been increasing their web presence.
From the Camps.com About Us Section
Welcome to Camps.com – you're one stop reference for anything and everything camp related. Searching for the best in education, arts, games, or sports camps? Camps.com has you covered! Use our search engine to find specific camps in your area or get a listing of all the camps in your neck of the woods. Why spend the summer months twiddling your thumbs when you could be honing skills for your favorite activities? Interested in trying something new and don't know where to start? Camps.com has the answer! Whether it's spelunking caves in the Appalachian Mountains or nature hikes in the California's Redwood forests, you'll find a camp for it at Camps.com.