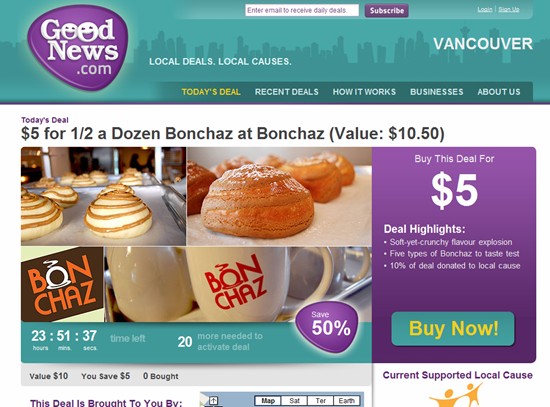 If you've logged on to Twitter recently, @GoodNewsVan (the Twitter account for Kevin Ham's Group Buying venture GoodNews.com) announced that followers would get to take a sneak peek at the new web site. 
True to their word, since July 5th, there have been a limited number of Tweet messages sharing deals that give GoodNews.com members bargains in Vancouver.
Today's Deal:  $5 for 1/2 a Dozen Bonchaz at Bonchaz (Value: $10.50).
In recent weeks, GoodNews.com has undergone quite a number of changes, featuring a more Web 2.0 look and feel.  There have been only 2 deals offered so far on the Beta web site that is currently online.  And the focus of the site right now appears to be on one city: Vancouver. 
As I pointed out earlier, coupling geo websites with group buying services is a fantastic idea to get things moving and scare the competition.
Just in case you're wondering, Kevin Ham might be the king of Internet domains, but when it comes to Twitter vanity domains, he missed the landrush. 
Kevin Ham had to use @GoodNewsVan instead of @GoodNews (which has been Suspended by Twitter.)  For his website BlackFriday.com, Kevin Ham went with @BlackFridayweb.  While it may not seem like a big deal — like Domain Names — chances are fans and users of his websites are typing in twitter.com/blackfriday only to find themselves on someone else's Twitter page.