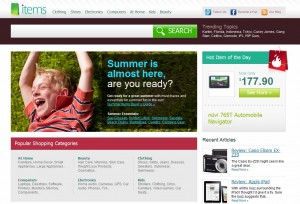 Items.com which sold in January on Sedo for $50,000 recently launched a shopping site.  Items listed on the website range from "At Home" items to Beauty, Clothing, Computers, Electronics and more. 
The Items.com web site appears very new as the Facebook, blog and twitter entries associated with the site went online about a week ago. 
Traffic to the domain name items.com which had been previously parked was just over 2,000 unique visitors per month in March, but with items.com developed, and getting ready for summer shoppers looking to purchase swimwear and other items, it'll be interesting to track the progress of this site's traffic.
Items.com is currently the #50 top domain sale in 2010, and while many other names remain parked in the DNJournal YTD chart, the owners of Items.com strategy is development to make the best use of its investment.
According to the website:
items.com is a hot new way for consumers to find and compare all the best online deals out there. Get a better shopping experience by utilizing all of our fun and functional features. At items.com we utilize intuitive search to help customize your shopping experience, while cutting down search time. Our lively shopping community consists of consumers just like you. Join our community and voice your opinion on popular products and offer your expertise by talking about experiences you have had. Walk away from our site with a better idea of what deals are available, and what products provide the best bang for your buck. Become a better shopper at items.com.