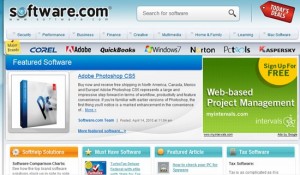 The keyword software which is searched over 1 million times per month globally, has sold at Sedo for $313,618.90 USD.  Software.co.uk sold on Sedo in October 2009 for $249,000 after being purchased by Software.com Holdings Pty Limited.   While the price of the .de is considerably higher than the .co.uk name, .de domain names have been enjoying strong business in the last year. 
Currently the domain Software.de is registered in Sedo's transfer service, but based on past sales, there is a good chance Software.com landed another great name for their portfolio. 
Software.com was purchased for $3,200,000 in 2005 in a private transaction and is one of the Top 100 domain sales of all time, just ahead of candy.com.
Software.co.uk redirects to software.com.