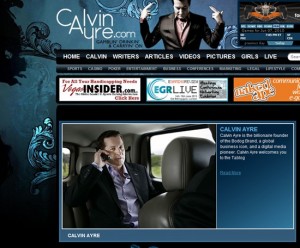 In a story posted today on CalvinAyre.com, Dan Taylor a staff writer for the website acknowleged the domain industry and a recent Fusible.com story that appeared online which discussed how Calvin Ayre, the founder of the Bodog Brand and buyer of Slots.com for $5.8 million USD, now has the best of both worlds when it comes to dominating the online gaming industry.
Namely, deep branding expertise and a category-killing name: Slots.com.
The story titled "Slots.com set to blow away the competition", reaffirmed what many in the domain industry already know, but Calvin's competition may not:
…that Bodog is going to wreak serious havoc on its competition with its category killing name Slots.com.
It's nice to be noticed for news stories which Calvin even commented on, and it's great to see the Billionaire founder of Bodog taking his talents with building and branding into the Slots.com domain.
Slots.com is going to be an unstoppable brand.