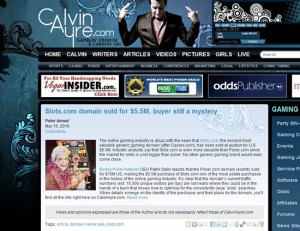 The news of Bodog's Founder Calvin Ayre purchasing Slots.com for $5.8 million USD was revealed at the beginning of this month. The landmark sale is one more for the record books for gaming-related domain names in 2010 as Poker.org sold in February for a whopping $1,000,000 USD.
And the purchase of the category-killing name, will likely be one more for the Bodog record books — as Calvin Ayre has built a Billion-dollar empire starting with just $10,000 in cash, so imagine the possibilities when Bodog gets to work on Slots.com.
Were you tempted to guess at the mystery buyer of Slots.com in mid May?
Well, if you were already a regular reader of Calvin's website (Calvin Ayre) on May 15th, you may have picked up on the hints that staff writer Peter Amsel wrote about in a story titled "Slots.com domain sold for $5.5M, buyer still a mystery"…
The online gaming industry is abuzz with the news that Slots.com, the second most valuable generic gaming domain (after Casino.com), has been sold at auction for U.S. $5.5M. Industry analysts say that Slots.com is even more valuable than Poker.com since the market for slots is a lot bigger than poker. No other generic gaming brand would even come close.

Bodog Poker Network CEO Patrik Selin reports that the Poker.com domain recently sold for $10M US, making the $5.5M purchase of Slots.com one of the most astute purchases in the history of the online gaming industry. It's clear that the domain's current traffic numbers (est. 15,000 unique visitors per day) are not nearly where they could be in the hands of a team that knows how to optimize for the consistently large 'slots' searches. When details emerge on the identity of the purchaser and their plans for the domain, you'll find all the info right here on CalvinAyre.com…."
The message may have been hard to deduce in May, as many in the gaming industry were celebrating the sale on a number of news outlets — but on the other hand, the writing in the message seems a lot more clear now.
This is going to be one fun domain to watch as development gets underway.