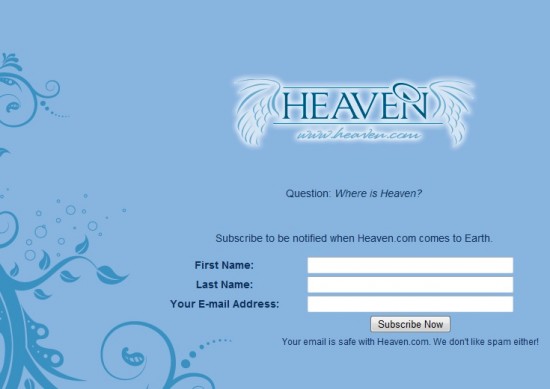 In May it appeared Kevin Ham's Gospel Media Network of domain names was taking a backseat to other ventures like GoodNews.com and Vancouver.com, but names within the Gospel Media Network are undergoing changes, the latest makeover to the domain name Heaven.com which now has a landing page that allows visitors to subscribe to be notified when Heaven.com launches.
Armageddon.com currently displays a Apache 2 HTTP test page.
In 2007, Kevin Ham purchased Heaven.com and work of developing out sites Armageddon.com, God.com (and others) in a progressive and integrated manner was said to be taking place in 2008, but instead other sites were launched by Reinvent, such as BlackFriday.com and Vancouver.com.
It looks like this month, big changes are underway for several of the domains within the Gospel Media Network as the registrant records for Armageddon.com changed yesterday and Heaven.com was updated on June 1, 2010.