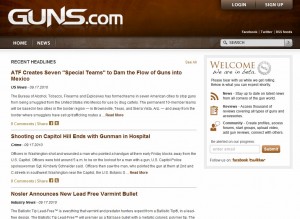 Firearms enthusiasts can get a sneak peek at the Beta version of Guns.com, which launched earlier this week.  
The domain name which was purchased for $800,000 in March 2010 currently ranks #7 on DN Journal's Top 100 Sales Chart of 2010.  
Guns.com had been up for auction in Moniker's live auction at the DOMAINfest Global conference in Janaury, but hadn't met it's reserve price.  But a deal was made shortly after.   Ron Jackson, the editor of DN Journal, first reported the sale: "After that event Moniker brokers continued to work hard to close a deal for the category defining domain and have now succeeded", Jackson wrote.
The Guns.com web site aims to be the top source guns, and will be divided into three sections:
News – stay up to date on latest news from all corners of the gun world
Reviews – access thousands of reviewis covering all types of guns and accessories
Community – create profiles, access forums, start groups, upload video, add gun reviews, connect with others
The owners have also launched their brand on Facebook and Twitter, and are keeping fans informed of the site's status.