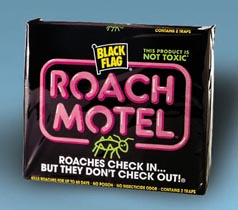 In September 1995, someone had the foresight to register the domain name: roaches.com.   A name that appraises for nearly $100,000 according to Valuate.com, the free domain valuation service run by veteran domain investor Francois Carrillo. 
Fast forward fifteen years later, and now the domain name is pending renewal or deletion after expiring on September 18, 2010 at Network Solutions.
What's the History?
According to Archive.org, between 1995 and 2010, Roaches.com was home to The Clorox Company and the Black Flag brand – a company Clorox acquired in 1995 for an undisclosed amount.  The Black Flag brand includes well-known products such as the Roach Motel and the Fly Motel.
In 2005, Roaches.com was then home to The Dial Corporation, and displayed a host of cleaning products on its web page.
What's baffling, is that even as the record-selling prices of domain names continue to make news in 2010, companies still overlook their domain assets.
If the previous owner doesn't renew the domain in time, Roaches.com will head to private auction on NameJet on October 23.  Still weeks away, 50 pre-bids have already been placed.
Domain Investor Frank Schilling of NA Media, owns CockRoaches.com.
For domain buyers on the hunt for available domain names, the following are not registered at the time of this story:
FleaMotel.com
MiceMotel.com
AntMotel.com
SpiderMotel.com
CricketMotel.com
TickMotel.com
But be wary, according to Valuate, all of the names appraise for a whopping $0.