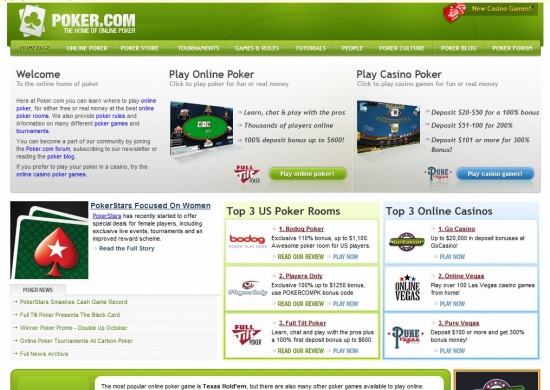 On October 1, I wrote about the "soft launch" of Poker.org, the $1 million .org domain name that was sold by National A-1 to PokerCompany.com in February 2010.
Though news of the sale was widely covered, the news of the "soft launch" has gone largely unreported, despite the fact Poker.org is 2010's biggest .org sale and the #5 publicly reported sale of a domain name this year.
Now that the web site is developed, its positioning in Google search is another story.
Today, Poker.com is first in the results, but it's not the only domain with the keyword "poker" in the web address that appears ahead of Poker.org.  Although it's early, here are some interesting, (some obscure) poker domains which are displayed in Google search results before the million dollar .org domain.
freepoker.org
Play poker for free with our texas holdem poker game. You can play free online poker games with NO download needed and very quick registration form
launchpoker.com
Comprehensive online poker guide at LaunchPoker.com – poker rules, online poker room reviews, and poker tips on how to play poker.
dozenpoker.com
DOZENpoker.com is a unique online poker index, offering detailed analysis of poker sites to find the very best in online pokerempirepoker.com
Play online poker, with texas hold'em tables and tournaments action. Over 200000 prize pools. The only online poker room with a VIP program.
online-poker-index.com
Leading online poker website objectively written by players for players. Get EXCLUSIVE BONUSES, read our thorough reviews before you download and much more
pokertalk101.com
Thousands of books, magazines and online sites are devoted to poker, the most popular and exciting card game.
These sites might not be ahead of poker.org for too long, but time will tell.
If you own a poker domain that displays ahead of poker.org, feel free to share in the comments.