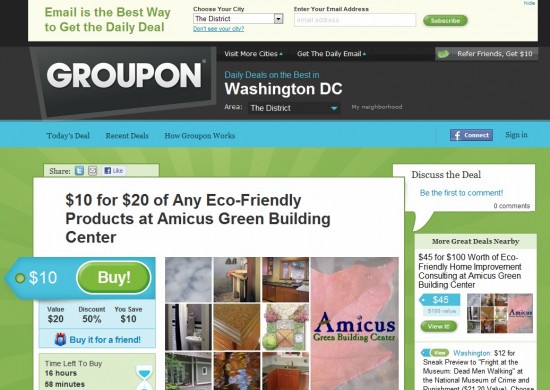 If there's one industry that is showing the power of catchy, brandable domain names: it's the group-buying industry.
Group buying continues to be popular, not only among bargain shoppers, but among companies and individuals looking to cash in on the trend. 
Sure, building a business on a great domain name like Bargains.com can certainly help strengthen a company's image, but companies like Groupon.com who are valued at $1 billion, have shown that it doesn't take a category-killing name to be successful.
Prices for catchy domain names are far cheaper than the prices for category-killing domain names like Coupons.com, which was purchased for $2.2 million in 2000 in a private transaction.
Group buying domains
Here's a look at some interesting group buying domains that several startups and established companies are using.
WeForia.com
Yellowbook launched Weforia.com in Southwest Florida.  The group buying site offers consumers up to 90 percent off the cost of products or services at local businesses. "We know lots of businesses close to where you play and are gearing up to help them offer fantastic discounts for you!". 
Yellowbook registered the domain name this August.
DealSwarm.com
Cox Media Group recently launched a Groupon clone called DealSwarm. "We're talking up to 75% off totally fun stuff in your neighborhood, one daily deal at a time." 
Cox purchased the domain from Sedo recently for just $1,500 USD.
CityLoots.com
CityLoots launched in Dubai. "Our daily offers are for: Restaurants, Spas, Concerts, Sporting Events, Classes, Salons,Adventures and so much more…".
The company registered the domain name in July 2010.
LocalGinger.com
Location-based media company WHERE announced in September that it has acquired LocalGinger.  "LocalGinger.com operates in multiple regions featuring exclusive local offers for our members.  We also manage social commerce marketing for merchants by creating branded promotion pages that help businesses easily leverage social media and reinvent word of mouth marketing using their own customer & prospect database."
Localginger.com, was originally registered in 2002, and even had a web site online.  Though it appears the name expired and was registered again by a different buyer.
DailyD.com
DailyD is a group buying aggregator that recently raised $5 million.   "To start receiving 50-90% off great experiences for you and your family, simply complete the following two steps."
The company that raised $5 million, paid just $3,000 for the domain name in 2009.  That, according to DomainTools sales history.
Wow.com
AOL has entered the group buying space with Wow.com. "Wow provides you and your family with savings at your favorite local and national locations each and every day! Eating, shopping, weekend outings – Wow offers things you want and things you need at a price that makes sense for your on-the-go lifestyle."