There are a number of interesting web sites that benefit off the success of Facebook.  Domain names that use "Facebook" in their URL continue to get a whole lot more valuable as Facebook continues its' rise. 
Did you know that before expanding Facebook beyond college students, the plan was to expand the social networking service to high schoolers?  Facebook planned to use FacebookHigh.com, the only problem was, the owner wanted too much money.  So Facebook passed on the domain.
I've chosen to write about 5 web sites that use "Facebook" in their domain name which has helped lead these web sites to success, including one web site that was acquired by WebMediaBrands.
AllFacebook.com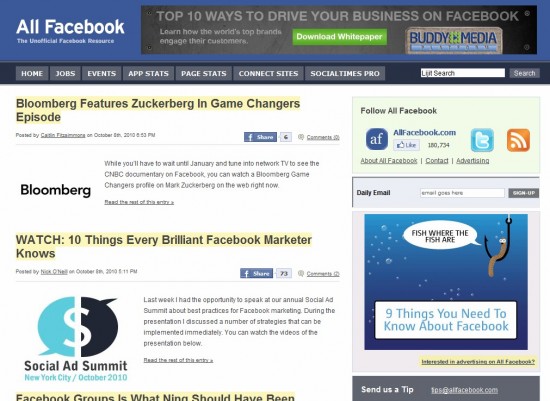 AllFacebook.com is an unofficial Facebook blog that covers Facebook news, business and marketing.  Nick O'Neill, the Founder and writer for All Facebook and its parent company Social Times, sold the website and company to WebMediaBrands in 2009.   All Facebook is listed as a news source in Google News and the site receives as many as half a million visitors per month. 
All Facebook posted an article earlier this week about the hoax domain name auction taking place for FaceSmash.com on eBay.  While the original domain Facemash.com has received a $19,000 bid on Flippa, an eBay seller is trying to sell FaceSmash.com as the original domain name used by Mark Zuckerberg, the founder of Facebook.  The auction listing for the hoax domain FaceSmash.com has a current bid of $990 on Ebay, despite the seller having (0) feedback.
InsideFacebook.com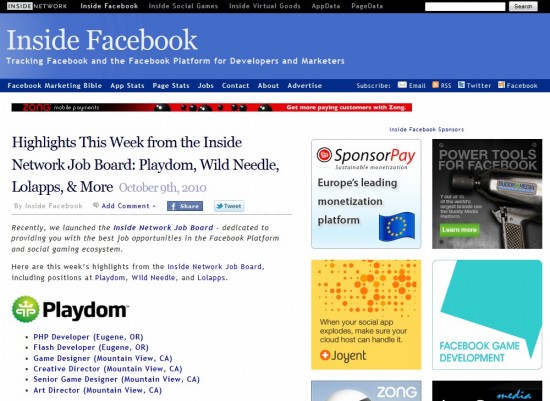 Taken straight from the Inside Facebook About page:
Inside Facebook is an independent service of Inside Network, the first company dedicated to providing news and market research to the Facebook platform and social gaming ecosystem. Based in Palo Alto, California, Inside Facebook focuses on Facebook and the Facebook Platform for developers and marketers. Inside Facebook was started by Justin Smith in April 2006.
The blog receives as many as 250,000 unique visitors per month, and it regularly receives mentions in major Technology news sources.  The founder of Inside Facebook, Justin Smith, seems to know a thing or two about domain names.  Justin owns insidesocialgames.com, insidenetwork.com, insidesocialapps.com, along with other domain names including his very own name and hack:  JustinSmith.com and Just.in.
FacebookEmoticons.com and FacebookSmileys.com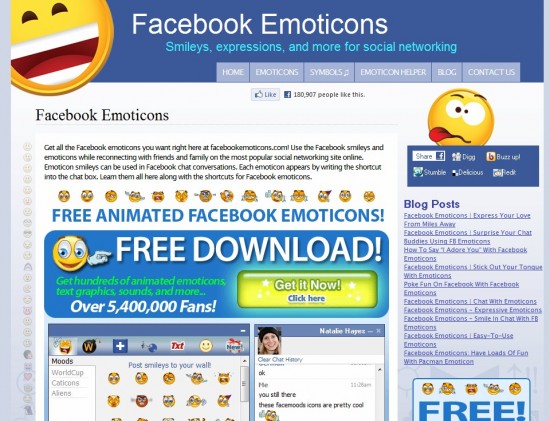 Emoticons are widely used in apps and web sites all over the internet.  The icons portray the writer's mood or facial expression.  
Run on WordPress, Facebook Emoticons receives over 100,000 visitors per month.  The prviate company that owns and operates Facebook Emoticons, also appears to operate another similar site called Facebook Smileys, which uses FacebookSmileys.com.  That site, receives almost 50,000 unique visitors per month according to Compete.
FacebookLayouts.com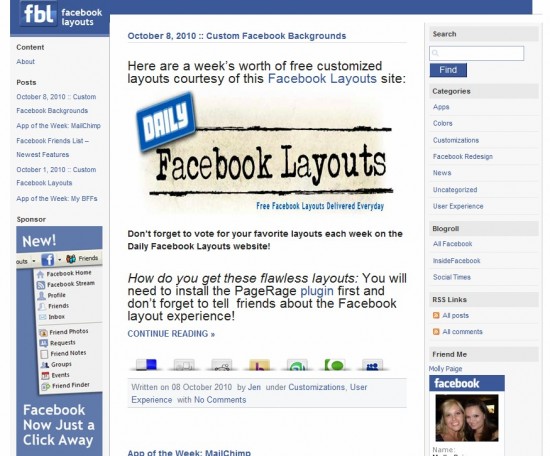 According to the site's About page: "Facebooklayouts.com covers topics relating to the look, feel and customization of Facebook. Topics include Facebook layouts, colors, Facebook interactivity and customizing Facebook's experience." 
As of the last Compete traffic ranking, Facebook Layouts reached nearly 100,000 unique visitors per month.