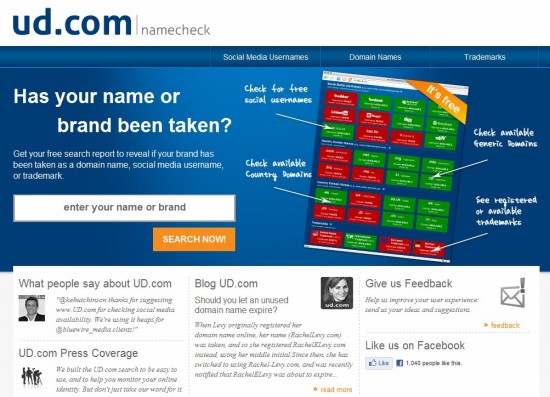 Namecheck, a service powered by United-Domains that provides a free search report to reveal if your brand has been taken as a domain name, social media username, or trademark, purchased the domain name NameCheck.com at Sedo for $50,000 earlier this week.
The way the way site works is you simply enter a name in a field, then click Search Now and the site tells you right away if the name has already been taken or if it's still available.  It checks popular social media user names, generic domain names, country domain names, and trademarks.
I typed "fusible" into the search box for example, and found out that most of the generic domain names like fusible.net and fusible.tv are already registered, but the name on flickr is available.
Smart move, but odd results
Acquiring Namecheck.com seems like a smart move by United-Domains, which currently uses UD.com for its web site. 
Oddly enough though, if you search on "namecheck", United-Domains hasn't bothered registering or acquiring "namecheck" across a number of popular social media web sites and domain names, even though they're available on LinkedIn, Digg and other places. 
The company hasn't registered domain names like namecheck.biz or .tv either, which are both available at the time of this story, which makes you wonder why they run these extensions are part of their service if they haven't even registered those extensions themselves.