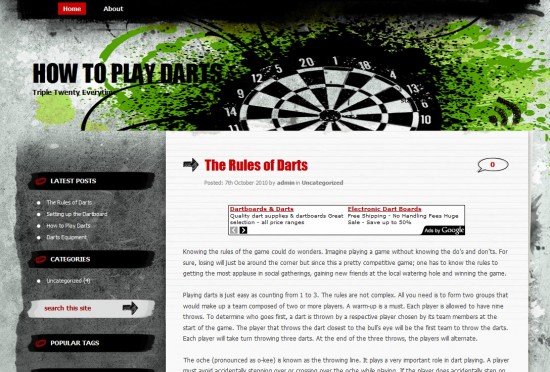 Professional poker player Dutch Boyd, whose total live tournament winnings exceed $1,900,000 since the age of eighteen, still finds time for buying and developing domain names. 
Despite winning two World Series of Poker rings, one in 2006 in a short handed no limit hold'em tournament and more recently in 2010 in a six-handed limit hold'em game, Dutch develops and regularly writes about his domain and mini-site exploits.
I've been trying to whip out more of these mini-sites. They're a lot harder than they look. In theory, I should be able to whip out about three or four of these mini-sites every day and get them to the point where they're making a couple bucks a month. In practice, though, these sites just aren't taking less than a half-day to do. Even with all of the components outsourced through oDesk, it still feels amazingly slow.
In a recent post on his blog (dutchboyd.com), Dutch writes about setting up mini-sites on howtoplaydarts.com and smoothies.tv.  He even breaks down the cost analysis of building smoothies.tv.
$80 – Domain Registration so far (two years)
$22.50 – Four articles, 400 words each
1 hour – Installing WordPress, matching the theme, entering content
2 hours – Fiddling with .php to include Google adsense code, amazon links, and analytics code
1 hour – Managing copywriter and writing this blog

So in order to break even, this new smoothies website has to make about 13 cents a day and to recover my investment so far in any sort of reasonable timeframe, it will have to do more like a quarter a day.
When it comes to domain names, it's not often you hear about public figures or celebrities dabbling in domain names. 
In 2009, Chris Bosh, the professional basketball player, successfully went to court to get ChrisBosh.com and nearly 800 other sports and celebrity domain names.  He has plans to unveil a new web site soon and knows a thing or two about the web.
Chris is a co-founder of Max Deal Technologies, which recently switched names from MaxDealTechnologies.com to MaxDeal.com.   Here's an excerpt from his original web site which is now parked at GoDaddy.
Founded in June 2007 by Chris Bosh and Hadi Teherany, Max Deal Technologies offers web design and technology consulting to clients who demand to stay current with the fast paced world of online communication.  We provide individuals with the ability to solve all their technological needs in both the personal and professional realms of life.  Unlike other companies who specialize in only one area, Max Deal Technologies handles web design, e-commerce, audio/video production, and hosting all under one branch.  Our goal is to create a cutting edge Web 2.0 online presence for our clients.
Mini-sites
Many people are not a fan of so-called mini-sites, but if you're looking for examples and information as to how one person in the domain community is doing it, you can always pay a visit to DutchBoyd.com to hear his story.