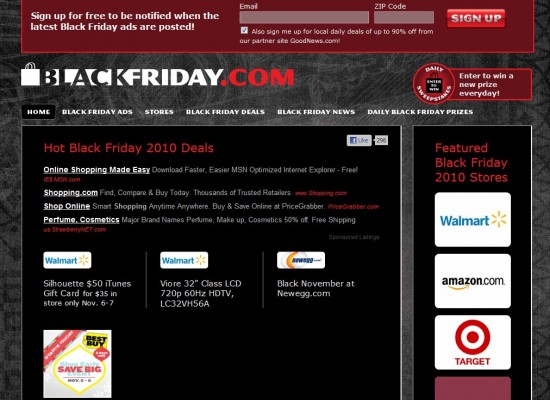 Earlier this week, Reinvent launched its re-designed BlackFriday.com web site in time for the 2010 holiday shopping season.  This is the second year online for BlackFriday.com, and although Reinvent finds itself with a category-killing name, unique content, and a spot on Page 1 of Google Search, it's not BlackFriday.com that sits atop the search rankings. 
As of November 4, 2010, here's a look at the current rankings for the search phrase: black friday.  I'll revisit the rankings over the next several weeks to see how BlackFriday.com has improved its rankings.
#1:  bfads.net
#2:  blackfriday.info
#3:  wikipedia
#4:  black-friday.net
#5:  blackfriday.org
#6:  blackfriday.gottadeal.com
#7:  theblackfriday.com
#8:  blackfriday.com
BlackFriday.com has all sorts of tricks up its sleeve to compete with sites that have been established for years online, including a daily sweepstakes that gives away a free prize everyday up until Black Friday. 
Here's a look at this week's gift:
[blackbirdpie url=http://twitter.com/blackfridayweb/status/399598099111936]