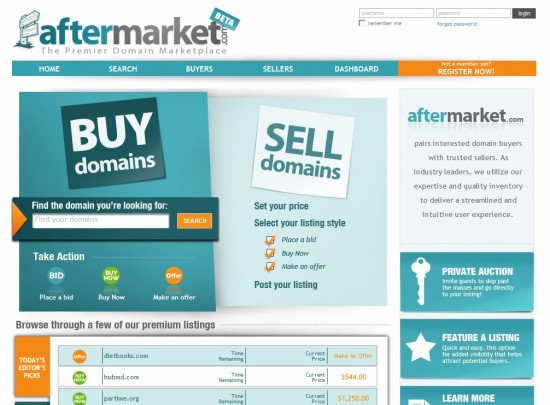 Thought Convergence has officially kicked off it's Aftermarket.com web site.  In an email sent out to subscribers, the Aftermarket.com team details information about the web site.
From the AfterMarket team:
We are pleased to announce the official launch of Aftermarket.com; the Thought Convergence online marketplace for domains.

Aftermarket.com offers Auction, Buy Now and Make an Offer domain listings. You can buy and sell with confidence knowing domains and buyers have been verified. Top-tier partners ensure that each listing contains links to relevant statistics and that domain transfers occur in a timely and secure manner. Using the platform is simple and intuitive because we dedicated some serious effort to collecting feedback and saving you time.
Earlier this week, Mike Berkens of TheDomains.com wrote a related post How Aftermarket.com can stand out from the Crowd, highlighting the importance of stopping 'dead beat bidders and non-performing sellers' on auction web sites – a problem that Domain Consultant is addressing with Boxcar.com.