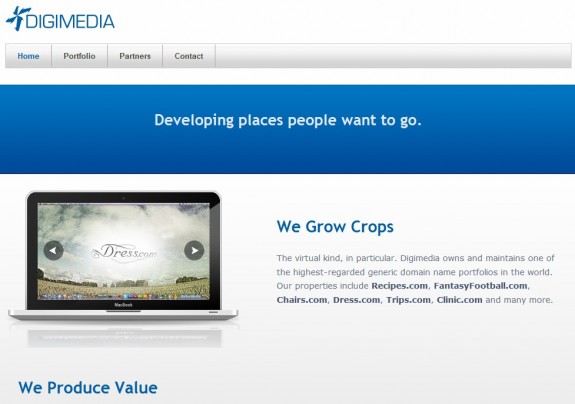 It's been years since Digimedia has updated its website, but the company that was founded in 1997 by watermelon farmer Scott Day has a new look.
And the company not only has a new website, but also a new slogan to go with its longstanding slogan — "Developing places people want to go."
"We Grow Crops.  The virtual kind, in particular", is featured prominently near the top of the home page.  The word "crops" is well suited for Digimedia, which owns the domain name, crops.com.  A domain that a panel at the World Intellectual Property Organization ruled the company could keep, after Crop's nv of Ooigem, Belgium filed a dispute to get the generic name.
The Portfolio page highlights many of the company's category killer domain names, including:  bathingsuits.com, childcare.com, clinic.com, greatgifts.com, homeinterior.com, inventions.com, invoices.com, judo.com, moneymarket.com, nightlife.com, oklahoma.com, peoplefinder.com, prayer.com, recipes.com, shampoo.com, skier.com, society.com, and trips.com.
One of the more interesting additions to the website is the Partners page, which briefly discusses the company's relationship with other businesses.  Though not featured in the Partners section, you may recall that last year, Scott Day made an equity investment in Royal Bobbles LLC, the company owned and operated by Warren Royal.  Royal Bobbles LLC runs bobbleheads.com.