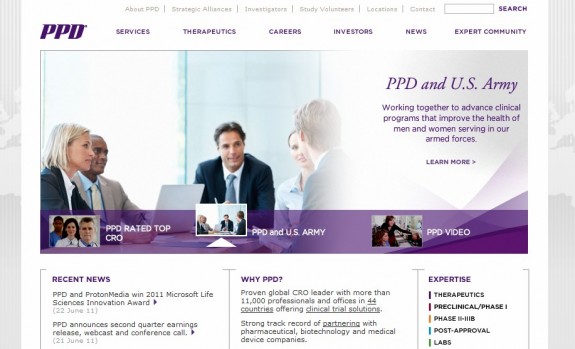 Updated June 27, 2011, 2:53 PM:  The decision has been published on the WIPO website. 
**
It is a baffling case.  A global contract research organization providing drug discovery, development and lifecycle management services, will get the three-letter domain ppd.com, according to a WIPO UDRP decision handed down this week ordering the name transferred.
Pharmaceutical Product Development, Inc (who uses the web address ppdi.com) filed a complaint against Damian Macafee (a.k.a James M. Van Johns) back in April 2011 which caught the attention of other bloggers around the domain industry like Elliot Silver who wrote, "I really hate seeing UDRP filings for three letter .com domain names. In my opinion, three letter acronyms usually have many different meanings, and it's generally tough to say who would have a right to own the name."
Details of the WIPO UDRP decision have yet to be released, but are expected to be posted online in the next few days.
Damian Macafee owns over 1,000 domain names, many of which are three-letter .com and .net names. 
Over the last 10+ years, Damian's had to fight a number of disputes. 
He lost the case to keep baseballweekly.com starting back in 2000, then went on to lose oxford-online.com, resicom.com, attworldnet.com, fredricksofhollywood.com, carrefour.net, micorosft.com, walkman.net, and adm.org.
Although the WIPO panel determined that it was "somewhat questionable" adm.org was registered in bad faith, Damian still lost the case because the panel asserted he had registered and used domain names in bad faith in the past.
The only case he's successfully defended to date at WIPO involved fcc.org in 2004.  The complaint was filed by Family & Children's Center Inc.  Damian won after the panel found that the complainant had not established that he had registered the domain name in bad faith.  The complainant was also not the owner of a registered trademark or service mark for FCC.
Damian Macafee, I imagine, hasn't been too happy about domain disputes filed against him over the years.  Screenshot history for the domain name ppd.com and many others in his portfolio display the words "F**k You", according to DomainTools.
I've reached out to Damian to discover more about the case and will update this post if I receive a response.