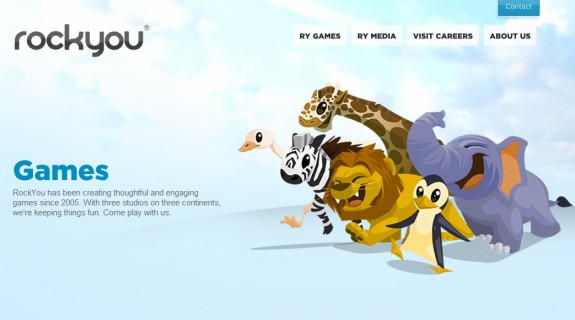 Founded in 2005, RockYou is one of the top developers in the social gaming space with over 13 million monthly active users of its games, according to the site AppData. 
Social gaming is a very competitive market and now it seems that RockYou will be creating its own outerspace-like version of Zynga's popular title Empires & Allies, which has skyrocketed to the #2 spot on the App Leaderboard with nearly 50 million monthly active users.
You read it here first, RockYou's upcoming futuristic game title will be called: Galactic Allies.
This past week the company registered the domain name galacticallies.com, which considering the popularity of Empires & Allies at the moment and games like Halo, it is not surprising to see a game like this in the works.
In early June, RockYou acquired 3 Blokes to help it develop social combat games as pointed out by TechCrunch.
RockYou is taking this game seriously.  In addition to the domain registration, it also filed a trademark application with the United States Patent and Trademark Office on "Galactic Allies".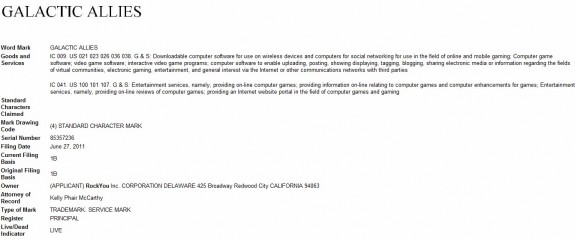 Here's a look at the Whois record.
Registrant:
   Rock You
   425 Broadway Street
   Redwood City, California 94063
   United States
   Domain Name: GALACTICALLIES.COM
      Created on: 29-Jun-11
      Expires on: 29-Jun-13
      Last Updated on: 29-Jun-11
Registering the domain name before making any announcement is a smart move by RockYou, who hasn't had much luck securing domain names to match its gaming brands. 
Domains like zooworld.com and gourmetranch.com have eluded the company, while other companies like Zynga have been willing to shell out big bucks to secure their .com brand.  Zynga purchased cityville.com on the domain aftermarket for $38,000 in June 2010.
Cityville is now ranked the #1 game on Facebook.
Discussion: Business Insider