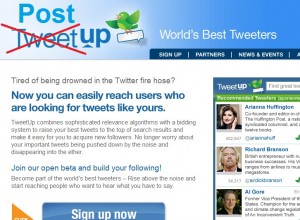 The plans for Idealab's newest domain name acquisition PostUp.com on Sedo for $15K are still under wraps, but the URL now redirects to Idealab's home page.  Though all the details are under wraps as of now, what we do know is that Bill Gross the businessman responsible for founding Idealab, is also the creator of Sponsored Search Advertising.  
With his creations of search engines that had "free" and "sponsored" results like GoTo.com, Snap.com and his latest venture Tweetup.com – the direction Idealab is headed with PostUp.com as a blog search engine that displays both "free" results from bloggers as well as paid ads – is pretty obvious.
It was only a matter of days between Idealab plucking up the domain Tweetup.com and launching the Twitter search engine, so we may actually see something very soon with PostUp.com.