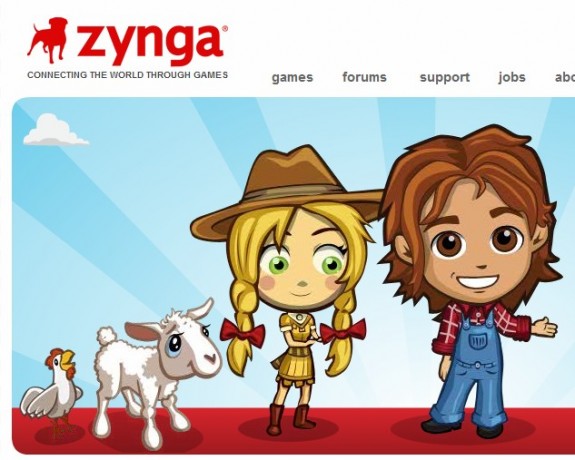 While rumors of Zynga's imminent IPO continue to spread across news sites and blogs, the company appears to be busy behind the scenes working on a project called Mojitomo. 
The company filed a trademark application with the United States Patent and Trademark Office on May 24, 2011. 
Here's a look at the application from the USPTO website.
| | |
| --- | --- |
| Word Mark | MOJITOMO |
| Goods and Services | IC 009. US 021 023 026 036 038. G & S: Computer game software; video game programs; and computer software platforms for social networking; interactive video game programs; downloadable electronic game programs and computer software platforms for social networking that may be accessed via the Internet, computers and wireless devices; computer software to enable uploading, posting, showing, displaying, tagging, blogging, sharing or otherwise providing electronic media or information in the fields of virtual communities, electronic gaming, entertainment, and general interest via the Internet or other communications networks with third partiesIC 041. US 100 101 107. G & S: Computer and electronic games provided online, enhancements within online computer and electronic games, and game applications within online computer and electronic games; entertainment reviews of computer games provided online; information relating to computer games provided online; virtual environments in which users can interact through social games for recreational, leisure or entertainment purposes |
| Standard Characters Claimed |   |
| Mark Drawing Code | (4) STANDARD CHARACTER MARK |
| Serial Number | 85328208 |
| Filing Date | May 24, 2011 |
| Current Filing Basis | 1B |
| Original Filing Basis | 1B |
| Owner | (APPLICANT) Zynga Inc. CORPORATION DELAWARE 365 Vermont Steret San Francisco CALIFORNIA 94103 |
| Attorney of Record | John M. Kim |
| Type of Mark | TRADEMARK. SERVICE MARK |
| Register | PRINCIPAL |
| Live/Dead Indicator | LIVE |
'Mojitomo' domain names
Days before on May 21, it looks like the company registered several domain names using MarkMonitor, a brand protection company used by many of the world's biggest companies.   Zynga's own moniker, zynga.com, uses the same privacy and brand protection services provided by MarkMonitor and DNStination.
The domains included  mojitomo.com, mojitomo.net, and mojitomo.org, none of which had ever been registered before. 
While I have no proof that Zynga is the registrant of the domain names, there's a very strong chance considering the names were registered only days before the trademark was filed.
I've searched the internet using the keyword "mojitomo", but I couldn't find any hints as to what the name could be used for.  Except for the Cuban drink Mojito, not much esle shows up.  There doesn't appear to be any stories about Zynga and the word mojitomo, aside from this article. 
Could Zynga's  Japan studio Unoh Games have a game in development?