Have you ever checked out Halloween.com? 
Behind every domain name, there's a story – and if you're anything like me, during the Holiday season it's always interesting to see what companies and people are doing with their domain names.
In the case of Halloween.com, its owner Christian Riley has an amazing domain name story that spans  almost 20 years.
Christian Riley, not only owns Halloween.com, he owns a slew of category-killing domain names that he has developed into web sites.  His passion for domain names started years ago back in the early nineties – some of which he has sold, some of which he has kept, and some of which he has developed.
Christian shows off his domain names and markets them on several of his properties.  Visit Halloween.com, and at the top of the site you'll see links to SantaClaus.com, PhoneBook.com, Hurricane.com and ThanksGiving.info. 
On PhoneBook.com, Christian receives on average 100,000 visitors per month according to Compete.  Scroll the bottom of the web site, and the footer links to other sites in Christian's network including: whitepages.biz, scholarships.net, christmas.biz, easter.biz, diving.com, and jacksonville.biz.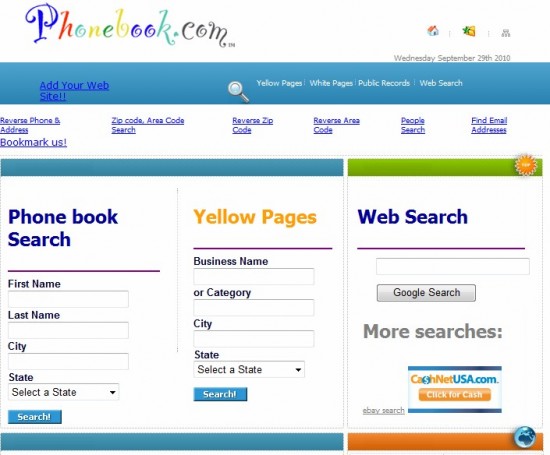 What's Christian Riley's story?
What better way to learn about Christian, than to read his blog – at none other than ChristianRiley.com.  The guy has some experience in the domain industry.  In a post dating back to 2002, Christian writes about domain names he registered in 1993 and 1994.  The list is long.
law.com (didn't register, it but was Director of Operations, 1993)
games.com (July 15, 1994) – Hasbro/Parker Brothers wanted this. AOL has it as of 2009.
casino.com (July 14, 1994)
court.com (August 4, 1994)
gamble.com (July 14 1994) 
hotel.com (August 4, 1994) –  HotelSupplies.com Inc bought this
Halloween.com (August 30, 1994)
SantaClaus.com (August 1994)
EasterBunny.com (December 1995)
phonebook.com (July 14, 1994) – We began with web directories here, Miami.com, and at coral.net for clients and business in Florida and the Caribbean.  Lots of realtors and destinations.
palmbeach.com (May 24, 1994)
rights.com (August 30, 1994)
dive.com (July 30, 1994)
Havana.com (Sept 1, 1994)
Coral.net (Sept 8, 1994)
Sequitur.com (June 1994) – The opposite of non sequitur.  Ended up letting it go.  Silly me.  😉  (We considered Sequitur for the corporate name, but ended up with Coral Technologies after a few people in the State of Florida government didn't get what it me and thought it might be obscene. Just ended up using it as the follow-up name for The Rising Sun BBS (Ft. Lauderdale 1982-1993) which was running TBBS and we switched to private software, then FirstClass.
diving.com (July 29, 1994)
talk.com (June 1994) – HotWired need
sale.com (June 1994) – J.Lee bought it.
racing.com (July 30, 1994) –
national.com (April 1994)
cruise.com (May 1994)
cruising.com (July 30, 1994)
movie.com (June 1994) – Well, you can see who owns it now.
miami.com (April 12, 1994) – Miami Herald needed it.
Boca.com (June 21, 1994)
Pompano.com (June 1994)
FtLauderdale.com (May 1994)
ebank.com (1994) – a Bank
reservations.com (June 1994)
reservation.com (June 1994)
dolphins.com (August 10, 1994)
shark.com (July 30, 1994)
holiday.com (June 1994)
keylargo.com (June 1994)
honeymoon.com (July 30, 1994)
boating.com (July 29, 1994)
flying.com (July 30, 1994)
keywest.com (July 29, 1994)
flores.com (Aug 29, 1994)
oceans.com (Aug 30, 1994)
marina.com (June 1994)
bahamas.com (Sept 9, 1994)
medical.com (July 14, 1994)
read.com (June 1994)
mart.com (June 1994)
realtor.com (June 1994) – At the time I didn't know it was a trademark, just thought it was generic like "realestate."  Younger and more naive. They were friendly about it all though!
islands.com (July 30, 1994)
zodiac.com (July 1994)
SonsOfLiberty.com (April 30, 1998)
Daughters-Of-Liberty.com (July 18, 2001)
Liberty-Tree.com (July 7, 2001) 
What's most impressive about the domain names and web sites that Christian has kept and developed, is that he operates everything on his own.  According to the About page on Halloween.com, he writes: "Halloween.com is really just one person, no big companies here!"