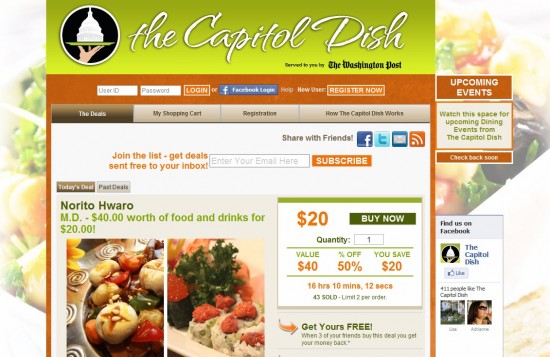 GroupBuying.com went up for auction at T.R.A.F.F.I.C. Miami with a reserve price of $100,000 and didn't sell. 
It's not surprising, given that people looking to save money online, don't necessarily search for the keywords "group buying" when hunting for bargains.  Most start-ups are going the way of hand-registered domain names; picking up catchy domains like CornerDish.com for less than $10, rather than paying hundreds or thousands for a domain when the price to start up a group buying site is relatively cheap in comparison.
With the group buying giant Groupon.com setting the precedent for the rest of the startups looking for catchy names, you can expect to see more web sites crowding the space using catchy URLs. 
Here's a look at some domain names being used by group buying sites that have recently been in the news. 
Scoopon.com
Smart Company: 'US group buying pioneer Groupon has hit local rival Scoopon with a trademark lawsuit in a United States District Court, alleging Scoopon's name is too similar to its own and claiming that Scoopon's owners even registered a company called Groupon Pty Ltd and the Groupon.com.au URL in Australia.'
The domain name Scoopon.com was registered on February 4, 2010.
Mobba.com
The Columbian: 'Mobba was the only Washington finalist among 10 startup firms chosen to present business plans at the Venture Northwest 2010 funding competition in Portland in November.' 
The domain name Mobba.com sold for $4,500 in 2009. 
8moms.com
PRNewswire: 'Kidville, named 'best of' by New York Magazine and given a five star "extraordinary" customer rating in The Lila Guide: New Parent Survival Guide, has announced that it will launch 8moms, a group buying site geared toward sophisticated and savvy moms. 8moms will launch in New York City on November 16th, before rolling out nationally.' 
The domain name 8moms.com was registered on September 27, 2010.
TripAlertz.com
Gadling: 'Launching today, TripAlertz aims to do for the travel market what Groupon and LivingSocial have done for restaurants, spas and shops. Part flash sale, part group-buying site, TripAlertz will offer impulse getaway packages with prices that start 30 to 50 percent below the leading public online travel sites.'
The domain name TripAlertz.com was registered in September 2009.
TheCapitalDish.com
DCist: 'The Capitol Dish is an effort from the Washington Post, which kicked off with respectable offerings from Kaz Sushi Bistro, PS7s, and Napoleon Bistro and Lounge.'
The domain name TheCapitalDish.com was registered in July 2010. 
Wrazz.com
ZippyCart: 'The creators of Wrazz are Ian Porter and Bret Eickoff, and the duo is looking carve out a niche in this heavily competitive market.
The domain name wrazz.com was first registered in 2007.